When I bent my front springs, I tried to find a replacement OEM type pack. After a little searching, I was seeing nothing but good things about BJ's off-road. Unfortunately, they wound up being a wee bit irritating. I'd placed my order on 8/2/11 via the interwebz. One week later, my order was still 'pending'. Several phone calls later (and lots of, "we'll ship them now!" phone calls). I wound up canceling the order when they finially told me that they wouldn't have the springs for at least another 1.5-2 weeks (Found that out on 8/11/11). Rather frustrating to say the least…
With the power of Google, I came across Team Grand Wagoneer, they had another set on the shelf, and it was beefier than the stock 7 leaf waggy pack I was using. As an extra bonus, they showed up two days after ordering them!
So after doing this to the stock 7 leafs:

They were looking like this (The other side was looking over taxed as well. Keep in mind, about 1,000 lbs over the curb weight of a Grand Wagoneer):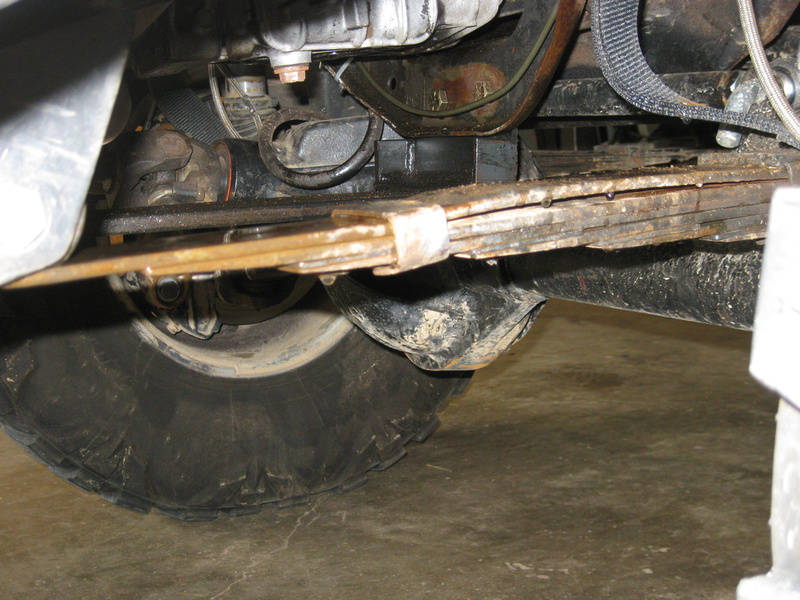 The New springs are waaay thicker than the old ones, so I've got more hope of these lasting a bit longer:

While they're stock height springs, they netted me about 1.5" of lost lift in the front (even after putting some road miles on them). They sit were the used 7 leaf pack sat prior to me destroying them The truck sits pretty close to level at this point.
I was worried that they'd give me a poor ride, but its actually pretty nice still. Not quite as soft as the 7 leaf packs, then again, I'm not hitting the bump stops as I cruise down the highway anymore
I also welded on some 'anti kickback' stops for my front shackles. In the end, I think I'm going to make my own boomerang shackles, but these will work for the time being.
Before:

After: